Think about the good times. You probably have a place where everything was amazing. Our special place is Muirfield, the course where our legend Jack Nicklaus won his first Open Championship, wearing the black Slazenger Jumper in the early rounds, and changing to the sky blue Slazenger jumper for the last round of the tournament.

Muirfield, years of tradition
We have to go back to 1891 to see the first time that golf was played at Muirfield, with a course of 16 holes. The following year, it was extended to 18 holes. It was that year, in 1892, when the Muirfield hosted the Open Championship for the first time, and again in 1896. Those first two years came with a lot of criticism, as the course had large sand wastelands and some low zones were waterlogged.
Those critics were enough to improve the course over the following thirty years. The course as it is today was designed in 1923, and was made by Harry Colt. He added 14 new holes, included two loops of nine holes.

Host of the Champions
The Muirfield course has hosted 43 national and international competitions, including sixteen editions of The Open Championship. Being 2013 the last one, only St. Andrews has hosted the major more times.
Seven players won their first 'majors' at Muirfield, and only two triumphed twice at the course: James Braid and Sir Nick Faldo. As we said, this course is special for Slazenger, because one of our legends won here wearing out jumpers.
It was 1966, and Jack Nicklaus was starting his amazing career. He did an amazing job, as he drove throughout with his 1-iron, avoiding the punishing rough. He did it all wearing Slazenger. On the early rounds, he wore the iconic Slazenger Jumper in black, and then switching to the sky blue Slazenge jumper.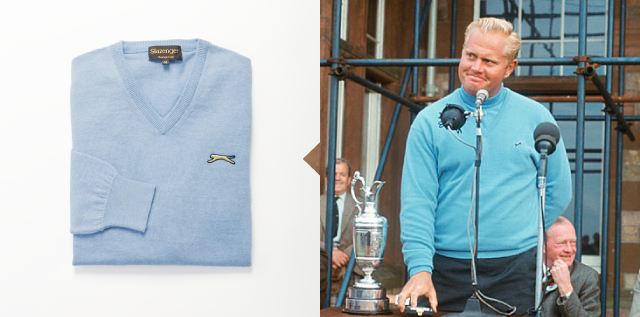 And now, more than 50 years laters, we have paid tribute to him and other legends with our Slazenger Heritage golf jumpers collection. With them, you will dress as a legend, you will feel like a legend, you will be a legend.