The 007 of the Sweaters
The first in the series of "Legend" sweaters by Slazenger Heritage was produced to commemorate the 50th anniversary of the classic James Bond film, Goldfinger, which starred Sean Connery as 007. The film includes a famous golf match between Bond and his nemesis, Auric Goldfinger, in which Connery is dressed in slim dark trousers by Anthony Sinclair, paired with the iconic burgundy V-neck sweater by Slazenger Heritage, bearing the distinctive panther logo that was originally devised in 1963, the year before the movie was produced.
The Legend Sr. Connery
Sean Connery also continued to wear the classic Slazenger Heritage v-neck sweaters in which his Bond had first played golf, with a light grey marl being a favoured colour. It was the real world legend of Sean Connery playing golf in his grey marl Slazenger Heritage, rather than just the fictional character of James Bond, that prompted Anthony Sinclair & Slazenger Heritage to examine the other golfing legends who had worn the Slazenger Heritage v-neck.
Much more than cinema
Throughout the 1960s and 1970s, the sweater was not only worn by spies, movie stars and amateur golfers, it became the knitwear of choice for professionals, making regular appearances at the world's oldest tournament, the British Open Championship. For example, during the 1966 Open in Muirfield, Jack Nicklaus wore a black Slazenger Heritage jumper during the early rounds of the tournament.
Slazenger Heritage in the Claret Jug
Slazenger Heritage accompanied Jack Nicklaus during all the British Open Championship. Golfing legend switched to sky-blue Slazenger Heritage Jumper, as he went on to win the famous Claret Jug trophy.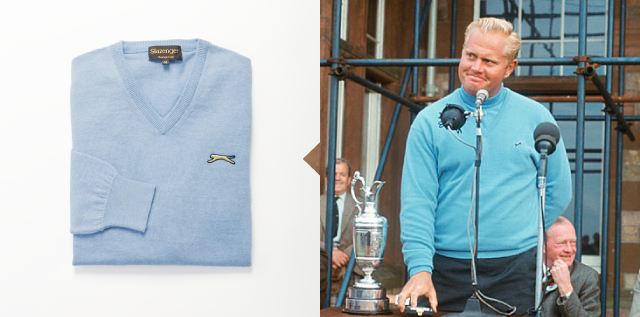 Always with the Champions
The panther logo continued to appear on the V-neck sweaters of Open winners in subsequent years. In 1973, Tom Weiskopf, who won 16 PGA Tour titles between 1968 and 1982, was victorious at Royal Troon wearing charcoal Legend Jumper by Slazenger Heritage.
A number one
A year later, Tom Watson, the number one player in the world according to McCormack's World Golf Rankings from 1978 until 1982, won at Carnoustie. He wore mid-blue Slazenger Heritage Jumper.
An American Legend
Johnny Miller was another golfing legend who decided wearing The Legend. He collected the winning prize at Royal Birkdale wearing the iconic V-neck sweater by Slazenger Heritage, in red, ahead of the joint second placed Jack Nicklaus and a 19 year-old Spanish boy called Seve Ballesteros.
The breaker winner
Spanish golfing legend, Seve Ballesteros returned at Royal Birkdale in 1979 to raise the Claret Jug at Royal Lytham, wearing the renowned navy-blue version of the fabled Slazenger Heritage v-neck. The Slazenger Heritage "Legend" series has been created in a number of limited edition colours to pay tribute to the legendary figures who wore them.