Jack Nicklaus, born in Ohio in 1940 and known by the nickname 'The Golden Bear', is considered the professional golfist player in history, as he is the player with most wins in Majors, 18. He was able to bring the golf to a big audience all over the world.
Jack Nicklaus early career
He played golf because of his dad, who decided to play amataeur as his doctor suggested him to walk a lot every day. Little Jack was his father's caddie, and he played sometimes, being able to make 51 hits in 9 holes. He won 5 consecutive Ohio State Junior Tournament, and won the Ohio State Open being 16.
Being in college and an amateur player, won the US Amateur and the NCAA Championship twice. His biggest achievement as amateur was his debut in the US Open, as he finished second, only Arnold Palmer could beat him. His record in that tournament, 282 hits, stills being the best of an amateur player in the US Open
The Golden Bear Career
His debut as professional in 1962 winning the US Open and being named the Rookie of the Year. In all his career he won the US Open four times, the PGA Championship five times and became the most laureated winner of the Masters with six green jackets. He won the last one in 1986 being 46 years old, which stills being the record.
Jack Nicklaus also won the British Open, and he did it three times. In 1966, he played the tournament wearing the Slazenger Heritage Black Legend Jumper. He also played with the Slazenger Sky Blue Golf Jumper. Both these jumpers are inspired in the Golden Bear legend.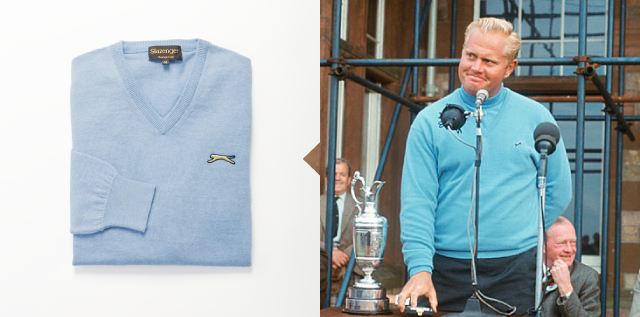 His last of the 113 wins was in 1995 with The Tradition, one of the tournaments of the Champions Tour, the senior american circuit. He retired in 2005 playing the British Open. At the end, he received a ten minutes ovation with the crowd standing to thank him for all he had done.
Besides all his trophies, he also is part of the Hall of Fame since 1974, was named PGA Golfist of the XX Century and five times the Best player of the season in the PGA Tour.
In Slazenger Heritage we feel honoured to make golf jumpers inspired by Jack Nicklaus. If you want to feel like a golfing legend, check out our golf jumpers inspired by several legends of this sport.