Good morning readers! As you all may know Slazenger Heritage, one of the oldest surviving sporting clothing brand, was the first official Wimbledon sponsor and we proudly continue with it until now. Because of that, we always have a special feeling for this tournament. Moreover, a great affection is held from Slazenger to those players who have made Wimbledon the big event that is today.
Rafael Nadal, the spanish tennis player,  is without any doubt one of these players. Hence, today we will be reviewing his tennis carrer where he has won Wimbledon two times.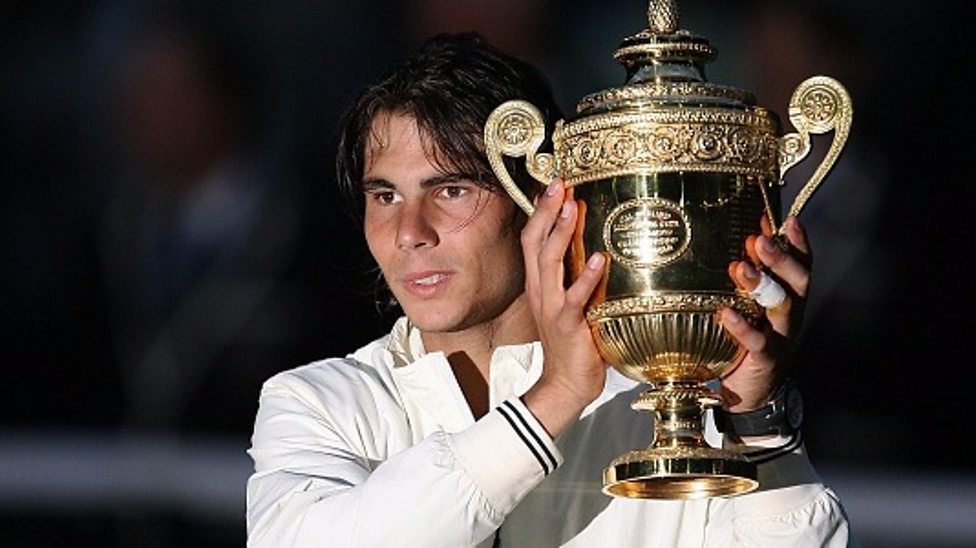 Who is Rafael Nadal?
Rafael Nadal is considered to be one of the greatest tennis players ever existed. And, not only that, for some people he is one of the best athletes of all times. Those who support this argument do not only take into account his titles but also the spirit that he transmits in his matches.
"Never surrender" could be the definition of his way of playing. You will never see him giving up a single point until it is finished and that may be the key to his success. Whenever you feel like everything is upside-down for him, he will come back from his ashes and will give the most of him to revert the situation.
Rafael Nadal and Wimbledon
2008 was an incredible year for Nadal. Being only 22 years old he won his first Wimbledon title, added to his first ever position in the ATP Ranking. Moreover, in the same year he got a gold medal in the Olimpics representing the Spanish national team.
Do you think it stops here? Well, it does not. He defeated Roger Federer in the Roland Garros final winning his second grand slam of the year.
His second Wimbledon comes in 2010. The previous year was really bad for Nadal Wimbledon-wise speaking. He got eliminated in one of the first rounds and, to redeem himself, this year he got to the final and won the tournament.
If you want to feel like a trully authentic tennis player we can provide you the experience. You will walk in a tennis legend's shoes by wearing one of Slazenger's tennis sweaters. Therefore, we assure you that Rafael Nadal's spirit will get inside you. You will never surrender!
From Slazenger Heritage we really hope that this article was helpful and provided an useful insight into Rafael Nadal's story. Stay tunned for what it is to come next week and do not doubt to contact us to answer your questions. See you later!